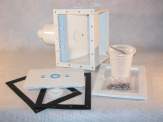 SK1000 Skimmer
SKIMMER FOR ABOVE GROUND POOLS
SK1000 provides through-the-wall skimming capacity and efficiency. It comprises only four basic parts; skimmer body, floating weir, deck lid and leaf basket. Pentair's SK1000 skimmer introduced a unique design feature to the swimming pool industry, the 'Weir-Vac', as special method by which the floating wier also doubles as a vacuum plate.
Features
Direct replacement for thousands of skimmers sold and installed through Australia.
Combination weir door and vacuum plate.
Compliant to AS1926.3 when installed on an above ground pool with an auxiliary outlet complying with AS1926.3 (6.1.2b).
1 year warranty.