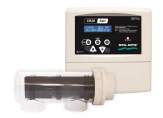 Sta-Rite® SR Series
Salt Water Chlorinators
Introducing enhanced salt water management - Sparkling pool water has never been so easy!
The Sta-Rite® SR Series Salt Water Chlorinator is a fully-automated system and is proudly made in Australia. Digital control, battery back-up and self cleaning (reverse polarity) as standard. It is available in two sizes – 20g/hr and 30g/hr and is available with optional two additional timed power outlets. The add on pH system maintains your pool water in the correct pH range – making the SR series one of the most efficient and smartest salt chlorinators on the market.
Features
Fully Automated
Optional pH system keeps the pH of your water in the correct range This ensures that the sanitiser works with optimal efficiency and keeps your water balanced.
Proudly manufactured in Australia.
Intuitive touch-pad electronic control.
Reverse-polarity, self-cleaning cell.
Certified to Australian Standards.
Additional timed power outlets for connecting pool lighting or other accessories (optional).
Battery-backed up digital clock (all models).
Self diagnostics including gas detection, dryrun, low water temperature and low/high salt alarms.
Gauranteed by a 2+3 year waranty - 2 years full plus further 3 years pro rata on cell.