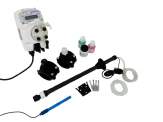 Solenoid Dosing System
The Pentair Solenoid Dosing System uses a unique solenoid pump for reliability & years of trouble free service.
The new Pentair Solenoid Dosing System will complement our Dosing & Measurement offering. Two versions (pH & ORP) will provide a perfect water balance, by proportionally adding the right amount pH+/- or chlorine. The Solenoid Dosing System is simple to use and offers plenty of new features which increase usability and user safety. The pH unit can connect to the FreeFlo salt chlorinator for a sanitised and ph perfect pool. With no peristaltic tubes to wear and replace the solenoid dosing system intrinsically offers years of trouble free service.